The Casella CEL-350 series is a fully featured personal dosimeter for workplace noise investigations with a kit of standard accessories.
Starting at $1,450! – Prices will vary depending on number of dosimeters purchased at one time.
Call for pricing. – 1-800-272-0301

The Casella CEL-350 series dosimeter is hardly noticeable, weighing less than 2.4 ounces and only 2.8 inches wide by 2.0 inches tall. This dosimeter possesses a dynamic recording range from 65dB to 140db and measures simultaneously 3 dB and 5 dB exchange rates. It also has the ability to record a time history profiling of 4 results at fixed 1 minute intervals. It calculates all the popular noise dose parameters and stores them for later review. Lockable security ensures that deliberate or accidental tampering cannot occur.
The Casella CEL-350 kit includes a charger, infrared-USB PC input cable, Insight database software for a single user, 110/240Vac to 12Vdc power supply, acoustic calibrator, pin and alligator clothing clips, and a carrying case.
These dosimeters can be approved for hazardous areas; dosimeters approved for hazardous areas are denoted by "IS" suffix. For more information, read below.
---
Buy a Casella CEL-350 series dosimeter!
CEL-350 dBadge Micro Noise Dosimeter
The Casella CEL-350 series dosimeter is an easy to operate dosimeter that is lightweight and less than 3 inches by 3 inches! At less than 3 ounces and no cables to snag or unplug; this dosimeter goes nearly unnoticed during the workday. The Casella CEL-350 dosimeter calculates all the popular dose parameters for industrial hygienists, technicians, and safety engineers responsible for workplace noise monitoring and is particularly helpful in situations where conventional belt-worn noise dosimeters are inconvenient. Recorded results capture all the necessary combinations of exchange rates, thresholds, and criterion levels needed to comply with federal, state or local requirements. Furthermore, the Casella CEL-350 series is user-friendly because no user set-up is require. All parameters are recorded for later access with the Insight software. All stored data can be downloaded, analyzed, and stored in any file format that the user requires. Multiple reports can be made from the same data set without the need to remeasure the noise. Both data collection and analysis time is saved.
Calibration is simple as well. Place the calibrator over the microphone and the unit will automatically enter the calibration mode.
The Casella CEL-350 series has the ability to run up to 28 hours continuously on a full charge. A full charge takes approximately 90 minutes. A mere 30 minutes is required to charge the dosimeter for an eight-hour workday. The unit can be locked to prevent any intentional or accidental tampering of instrument results.
Dosimeters can be bought with or without a kit. All Casella CEL-350 series dosimeters kits denoted by the 'K' suffix come complete with a charger and slave charger(s) appropriate for the number of dBadges selected. Dosimeters approved for hazardous areas, meeting IS approval (ATEX number Sira 07ATEX2032X), can be bought. An upgraded version of the Casella CEL-350 dosimeter, the CEL-352 Plus, has additional features such as the capability of recording in a C weighting for rms as well as calculating the LC-LA difference level. Visit the model comparison page for a list of model differences.
The Casella CEL-250 kit includes a USB PC input cable, Insight database software for single user, 110/240Vac to 12Vdc power supply, acoustic calibrator, pin and alligator clothing clips, and a carrying case to fit up to 12 dBadges and accessories.
Multiple dosimeters with or without kits can be purchased at one time.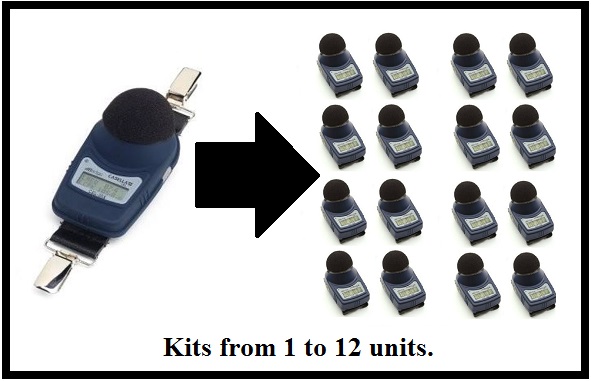 CEL-350 Dosimeter Kits
Casella CEL-350 Dosimeter Price List

CEL-350
$1,450
CEL-350/2
$2,850
CEL-350/3
$4,200
CEL-350/4
$5,450
CEL-350/5
$6,750
CEL-350/6
$8,025
CEL-350/7
$9,250
CEL-350/8
$10,450
CEL-350/9
$11,600
CEL-350/10
$12,750
CEL-350/K1
$2,395
CEL-350/K2
$3,845
CEL-350/K3
$5,195
CEL-350/K4
$6,345
CEL-350/K5
$7,250
CEL-350/K6
$8,545
CEL-350/K7
$9,695
CEL-350/K8
$10,745
CEL-350/K9
$11,795
CEL-350/K10
$13,245
CEL-350/K11
$15,995
CEL-350/K12
$16,995
CEL-350IS
$1,595
CEL-350IS/2
$3,190
CEL-350IS/3
$4,750
CEL-350IS/4
$6,200
CEL-350IS/5
$7,650
CEL-350IS/6
$9,050
CEL-350IS/7
$10,450
CEL-350IS/8
$11,850
CEL-350IS/9
$13,200
CEL-350IS/10
$14,550
CEL-350IS/K1
$2,495
CEL-350IS/K2
$4,090
CEL-350IS/K3
$5,495
CEL-350IS/K4
$6,775
CEL-350IS/K5
$7,995
CEL-350IS/K6
$9,245
CEL-350IS/K7
$10,525
CEL-350IS/K8
$11,995
CEL-350IS/K9
$13,495
CEL-350IS/K10
$14,995
CEL-350IS/K11
$15,995
CEL-350IS/K12
$16,995
CEL-352/K1
$2,750
CEL-352/K2
$4,100
CEL-352/K3
$5,350
CEL-352/K4
$6,650
CEL-352/K5
$7,950
CEL-352/K6
$9,350
CEL-352/K7
$10,550
CEL-352/K8
$11,850
CEL-352/K9
$13,140
CEL-352/K10
$14,450
CEL-352/K11
$15,750
CEL-352/K12
$17,050
CEL-352IS/K1
$2,795
CEL-352IS/K2
$4,295
CEL-352IS/K3
$5,795
CEL-352IS/K4
$7,295
CEL-352IS/K5
$8,750
CEL-352IS/K6
$10,150
CEL-352IS/K7
$11,550
CEL-352IS/K8
$12,950
CEL-352IS/K9
$14,250
CEL-352IS/K10
$15,45-
CEL-352IS/K11
$16,550
CEL-352IS/K12
$17,650
Click here to view the Casella CEL-350 Series Dosimeter Accessory Price List
---
Casella CEL-350 Technical Specs
Technical Specifications

Acoustic accuracy

ANSI S1.25, IEC61252 2002 Personal sound exposure meters

Dynamic range (dB)

65 to 140

Frequency weightings

A for rms values plus Z and C for peak measurements

Time weightings

Slow for Q=5 data plus non for Q=3 data as required for standards

Exchange rate (Q dB)

5 and 3 simultaneously

Threshold level (dB)

Any levels from 70 to 90 in 1 dB steps

Criterion level (dB)

Any level between 70 and 90 in 1 dB steps

Microphone capsule

Removable ½" type 2 device can be calibrated with any standard acoustic calibrator using ½" diameter cavity

Calibration method

Automatic recognition and calibration to user set dB level

Display screen

96 x 26 pixel graphics LCD with 2 line text messages

Alarm warning indicators

Red and blue LED's showing level noise exceedances during run

Indicators

2 stage hi intensity LED's for memory, battery or noise warnings

User controls

2 push buttons for On/Off and OK/Accept

Weight (oz, g)

< 2.4 oz (68 g)

Size (in, mm)

< 2.8 x 1.7 x 2.0 in (72 x 42 x 52 mm)

Case molding

High impact ABS plastic molding

Battery pack

Two half AAA size NiMH rechargeable cells

Battery life (hr)

32 hours continuous, unit gives expected remaining battery life in hours when switched on by "fuel gauge" display icon

Charging unit

3 way dBadge master charger base with drop in charging via connections on back of dBadge casing

Memory storage (results)

At least 180 hours at 4 profiles every minute with unit showing remaining memory recording time in hours when switched on

Stored profile values

Lavg(Q=5), LZpk, Leq(Q=3), LCpk

Storage Interval

Fixed 1 minute for all 4 results simultaneously

Real time clock

Date and time stamp on all calibration data and profile results

Fixing method to worker

Various fixing clips provided for clothing and hard hat mounting

Microphone protection

Lockable foam windscreen to protect microphone

Security features

dBadge can be locked prior to being placed on worker to prevent tampering – displaying only duration and run in progress

Localization of menus

Up to 5 standard languages can be selected for screen prompts: English, Spanish, French, German, Italian

Identification of multiple units

2 lines of ID text can be uploaded from Insight program
Casella CEL-350 References
Visit Casella Solutions.